Some Things That We Must Talk About
Just some boring wiki stuff.
1. I know I already said this on the Community Message, but just so everyone sees this, are we going to continue Project Charart? It's something that Silvah brought onto this wiki, and I think I've gotten better myself. See?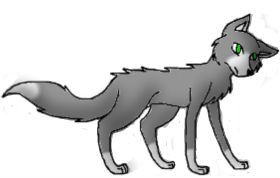 Okay, I know I still sucks, but it's better than before. I think the reason why no one uses it is because I haven't put it anywhere obvious yet, but I did now, so if anyone wants to use it, or wants to learn, just say something here: Charart
If we continue to use it, I'll make the wolves transparent, making it a lot easier and quicker to do.
2. If anyone wants to make Fanart, contact me, and I'll get a page up and running :) There will be a monthly poll to see who's drawing will get to be featured on the home page. There will also be a spot where you can post something and not have it in the poll, since I understand there are shy people in this world. 
3. I seriously need ideas for the monthly poll, since now it's become yearly blog. If you ever have an idea, go ahead and tell me :)
4. I'll use this page more often, it seems very useful. People will really notice the little annoying notification on the top of the page, like a little rash that will follow them on the wiki, and the more you ignore it the more annoying it gets. And if you never push it, it will be there, forever. Sorry, just putting a bit of past experience in my post.
So, if you have any questions, just ask one of the active admins :)