Chelsea

Chelsea age 4

Clan

None

Rank

None

Family

Father: Dylan, Mother: Snowflake, Brother: Monty, Sister: Jackie

Appearance

Fur: Piebald brown Eyes: Green/Blue

Age

4

Species

Canis dirus

Gender

Female
A small piebald she wolf with extremely prominent canine teeth. She  has a v-shaped nick in her ear that is the result of a fight with a bear. She is an experienced assassin and can leap great distances, run at 40 mph and climb very well. Her personality is sarcastic and distrustful, and she's hard to figure out, but she will open up after getting to know someone. She may also fire embers and flames from her mouth.
Appearance
Edit
Chelsea is a very attractive small she wolf. She is aggressive in battle, and a very adept fighter. Despite being small, she is faster and stronger than plenty of wolves that are many times larger than her.  She has soft white fur with brindle patches and large ears and a curled tail. She has a upward facing mane on her neck and is extremely flexible. She has a bad sense of smell, but her hearing is amazing. Her jaw produces a very strong amount of pressure and shatters bone effortlessly. Her hind legs allow her to jump very high. Her eyes are green in one and blue in the other. She uses the power of the sun, moon, stars and clouds to fire various projectiles at enemies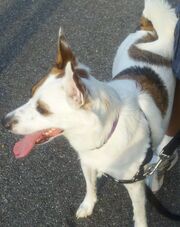 Chelsea was born in a distant land called Beringia to two wolves called Dylan and Snowflake. Snowflake was a beringian wolf and Dylan was a dire wolf the resulting hybrids proved very aggressive and  other predators tried incredibly hard to eradicate them. Only 3 cubs survived; Chelsea, Monty, and Jackie. They traveled with their parents for a while until Beringia collapsed as a result of the earthquake. Separated from her family Chelsea survived as a assassin killing unwanted wolves bears and cougars. After defeating many opponents she became feared by everyone. TBA